Your site is awesome
Love your holsters they look absolutely awesome.
Robert Osburn
Bessemer City
North Carolina
Received Your 822 Holster for My Bursa Thunder Plus (In Cross Draw)
I got the holster last week and figuring it would take about a week to make the gun fit the holster I double wrapped it in zip lock bags like I did with other holsters. Following your directions, after 2 days the gun fit perfectly, in fact if I didn't order the holster with a thumb break it would fall out. The thumb break strap softened up within 1 week and did not hinder the draw. (The other holster I have for this gun is 2 months old and the strap still gets in the way of the draw). It took a little while to get used to the 2 snaps that hold the holster on the belt (easy off, a little tricky re-snaping it back on, but I got it now.) I have 9 other firearms in need of quality holsters, (mostly classic revolvers and autos, will be contacting you soon about them (maybe something a little more fancy). Again thanks for a great job.
Herk Ingham
Marana
Arizona
Brand New, but feels like an old friend!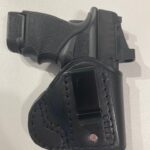 Just received my model 577 for the Hellcat. This is the second holster I have from HolsterPro. I could not be more pleased. This holster feels like I have had it for 10 years. The quality of the leather and craftmanship is second to none.
Thank you Paul!
Mark
Mark Batchelor
Fruitland
MD
Amazing Cross Draw Holster
I can't say enough good things about this shop. The whole story ordered looks incredible and the fit is nice and tight. Will definitely purchase from them again!!
Alexander Howard
St Louis
MO
Great holster all around
It may take a while to get it but the wait is worth it. Top quality and fit. Very reasonable price for the quality that you receive. Highly recommended!
Dennis
Las Vegas
NV
Consistent High Quality, And Attention To Detail
The first S&W J Frame Holster I ordered from Paul was serial numbered #429 – a black leather, Model #7 Pocket Holster. My SEVENTH holster from him is a brown Model #Zero pocket holster for a J Frame with Hell Raiser leather tooling and is serial numbered #26278.
The leather Paul uses is absolutely the best quality bridal leather. That and the quality of his workmanship are why I've asked him to make pocket holsters for every iteration of the S&W J Frame (43C,351C, 442,and 40) I currently have.
David Randolph
Bryn Mawr
PA
Perfect Fit
This was for a S&W bodyguard 380 IWB and it fit perfect. I ordered a black bodyguard retained holster and it is without question the best holster I have. The craftsmanship is what stands out to me, you can tell Paul has made the effort to make sure his customers are happy with his work and I am. The leather is just right, not to thick and not to thin but at the same time soft but strong. This was my first custom holster and I am very pleased with my experience. I plan on another order after the new year starts.
Place a order with Paul, you will not be disappointed.
Phillip Quinn
Woodruff
South Carolina
Ordered 4 , all are just great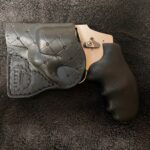 I ordered 2 J frame pocket holster, one plain brown, and the other Black with the Hell Raiser pattern which looks great.. Both fit the pistol just fine. A little rough initially but after working them with a plastic bag they are pretty smooth now.
I ordered a Sig 365 pocket holster in black that is very well done also. The last one is a gift for a Hellcat. All holsters have excellent stiching and good quality work. I included a picture of the J frame Hell Raiser because its the fanciest.
Joe f Spina
Carlsbad
CA
Shoulder holster for BASS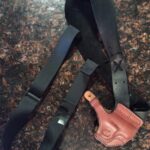 Paul made me a shoulder holster rig for my Bond Arms Snake Slayer, and it is top shelf. The holster leather is strong, well-stitched, and fits precisely without any break-in period. More importantly, the thumb-break is fit perfectly, with good snaps. I have had several thumb-break snaps from other quality makers fail quickly because they were not mated-up properly; these are. The shoulder leather is soft, wide, adjustable & comfortable. The support side is just a nylon strap, and is very long, so I used electrical tape to secure it once I got it sized to me.
Overall, this is an excellent holster, handmade by a highly skilled craftsman. I have half a closet full of holsters that didn't work out well. This one is a keeper; I highly recommend. I will be ordering similar rigs from Paul. Place your order well in advance of when you'll need it: The 2-week turn-around time stated on his website must've been written before he got very busy. I ordered my holster in December 2021 and received it in June 2022. Worth the wait, though.
Scott McGeough
Pikeville
TN
Perfect Fit
Great fit right from the start, thank you for making such a well made product that does the job right!
Sean Pendrak
Camp Hill
PA
Have purchased many!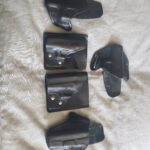 I have purchased 3 model 722s and 2 model 72s for various firearms as I have needed. I work in law enforcement and whenever asked, always refer my friends and coworkers, as well as my wife referring her social media channels to Holsterpro. Will be ordering again soon for the new firearm my organization is moving to. Thanks!
Anthony Bettencourt
Pacific City
OR
Excellent Choice
What a excellent choice it was to have a holster made by Holsterpro.
My Beretta 92 compact fits very secure and is the most comfortable holster I have ever owned. Excellent craftsmanship. Best choice I have ever made for a holster. I will be getting another.
John J
AK
John Johnson
Cordova
Alaska
Quality, great deal, minimalistic
So happy I found this site by looking through google images. The price is amazing for the quality of the holster. It's exactly what I was looking for.
Matthew D
Las vegas
Nevada
Superb quality and comfort!
I received my third holster from Paul today. Model 577 for my Smith & Wesson Bodyguard. I asked Paul if he would put my initials on this holster and he did. It turned out beautiful.
Daniel Graves
Hastings
Nebraska
Comfortable, Affordable, Lightweight
I have the 577 for my Glock 43. It is both lightweight and comfortable. The leather is thin but extremely strong. I can reholster without a problem. The "tail" pushes the gun against my body. You won't be disappointed!
Tony D
Carmel
New York
Second holster from Paul
This new 722 for my glock 43 is the secnd holster I have purchased from Paul. Great fit and quality as before. After receiving my first holsterpro purchase I didn't even look at another company. I can't imagine anyone is making a higher quality piece of gear.
Chuck Landrum
Newnan
GA
Beretta 3032 Ankle Holster
Excellent craftsmanship. Quick low-profile access while driving.
Richard L. Arant
Lanesville
IN
SIG P365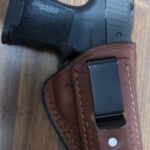 Absolutely love this holster. It's well built, fits the gun like a glove and beautifully stitched. Definitely will be ordering more!
John Gates
Remsen
NY
All Time Favorite Holster Company
I have purchased several holsters from Holsterpro over the last few years and they all have exceeded my expectations in quality and durability. Even after several years of heavy use, the gun fits snug in the holster like it was new. The belt slots, that really take a beating, still hold the holster close to the hip like always. Great work Holsterpro!
Glenn P Myers
Chesapeake
VA
Great Products!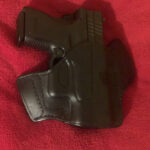 I received my second holster from Paul today. Model 25H for my Springfield XD40. Beautiful work sits comfortably on the belt and great retention!
Daniel Graves
Hastings
Nebraska
Holsterpro Never Disappoints!
Just got my new 611 cross-draw holster for my Ruger LCP Max. Fits perfectly with a nice snug fit. As always, the craftsmanship is second to none, and the holster is beautiful. I'm confident the holster will last as long as the gun! I highly recommend Paul & his company Holsterpro.com for all of your holster needs… Thank you Paul, for another great holster.
William Johnson
Edgewood
WA
Finest Holster I Own.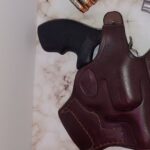 This has been my primary EDC holster for the past 7 months. His quality of work is outstanding. Any store-bought pancake holster I've purchased over the years cannot rival the material and craftsmanship. The strong and durable leather is soft to the touch, it doesn't feel rock hard and dried up like the previously mentioned generics. I'm a petite thin-mint at 120 lbs and this holster just hugs me, disappearing completely under the lightest of cover garments. Perfect at the 3 – 3:15 position and so comfortable I genuinely forget it's there. It's handmade, that's classy; with my revolver and this holster, that's over 160 some years of American tradition.
Anthony
North East Ohio
OH
EXCELLENT product
I received my ankle holster (Sig 365) today and am very impressed with the quality and fit of the holster. I have had many over the years from national brands and none of them even come close to comparing with this Holsterpro product. When I had a question about delivery I dialed the online number and I spoke directly to the owner, who answered the phone – unbelievable and very grateful. Needles to say I highly recommend the holster and the company….
Doug Carter
Cicero
IN
Driving Holster 417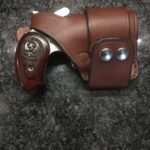 I just received my driving holster for my Bond Arms Snake Slayer from Paul. He's great to work with & kept me up to date during the whole process. I opted for the driving holster with snaps instead of velcro. Great craftsmanship & high quality leather & snaps. Thank You Paul at Holster Pro Gun Leather
Daniel Graves
Hastings
Nebraska
Superior Home For My Beretta 3032
Ordered the Model 5134 for my Beretta 3032. What I received is pure artistry. The holster is just beautiful. The firearm fits perfectly and the fit is snug enough to hold the pistol even when hung upside down…not that you would want to do so very often. Just shows how perfect the fit is to the firearm. Also received the holster in 8 days! Website states to expect 2 to 3 weeks for delivery. So, fantastic shipping as well. Could not be more pleased with this holster. I do not believe I could have found a better traveling home for my Beretta for $30 plus free shipping anywhere else…period! I will be back for more.
Mark Palsgrove
Las Vegas
Nevada
Professional Quality & Service
I was able to get my product switched with no problems. I ordered one model, but decided on another model. The final product was outstanding! Models zero for my Kimber micro nine. Use it all the time fits great!
Gary
Medford
Oregon
Purchased Two Holsters – The Workmanship & Materials Are Amazing!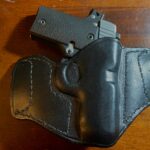 I have two OWB holsters from HolsterPro. They show great attention to detail, the best hand workmanship, and the best leather. I am very pleased. Retention and draw are excellent on both!
Alexander Larkin
Mission Viejo
California
Fine Fit for The New Colt King Cobra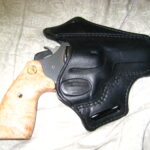 Model 23705 with 3 inch Colt King Cobra
Richard L Arant
Lanesville
IN
Ideal holster for the 3″ Colt King Cobra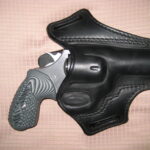 Just received the 722 high rise-belt holster (23705) for my new model 3″ Colt King Cobra. Perfect finish, fit and stitching, heavy well-shaped leather. Finely done!
Richard L Arant
Lanesville
IN
Model 577 Browning 1911 .380
I recently bought a Model 577 for my Browning 1911 .380 with a 3 5/8 barrel. Paul's craftsmanship is second to none. It fits like a glove because they are molded for the EXACT model. IWB holster, and zero concerns about the firearm becoming loose from the holster due to the perfect fit. Very comfortable as well, there is no part of the firearm touching my body in any way. This will last a lifetime. Thank you Paul.
Monty Montgomery
Tulsa
OK
Beyond Satisfied!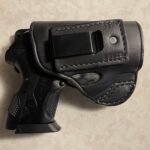 Purchased Model 577 for Beretta PX4 SC
There are may words to describe how happy I am, but I'll try to keep this short. The holster is everything! The quality is superb and it's very attractive. It's an identical fit for my firearm, seems like a glove for it. Wearing the holster it stays in place when I draw the weapon. No strong smells at all. Just all around >>> NICE! I wasn't expecting it to arrive so soon. Order placed 1/31/2021 revived 2/6/2021, I was totally surprised. I ran across Paul's YouTube video at random and I am so glad I did. Paul is very professional and to the point! I am looking forward to more purchases and highly recommend buying what you need from HOLSTERPRO!
Cheers
Antonio McClendon
Antonio McClendon
Hammond
IN
Simply The BEST!!
Just received my holster for inside the waistband carry #577. I could not be happier, the holster is perfect and the fit is excellent and I could not be more pleased. Paul, you're the best and I thank you!!
Charles Mascolino
Plainfield
IL
Superb Craftsmanship and Comfort!
Just a quick THANK YOU for making such a nicely crafted, comfortable holster!
I got the Model 25 for my Sig P365, it looks great, and fits nice! I love how the belt loops open up to the sides so the belt flows through easily.
This is my 3rd holster from Holsterpro, and I've got another one on order as well!
Buy with confidence, you will not be disappointed!
William Johnson
Edgewood
WA
Fantastic Holster
I ordered 2 holsters. A pocket model and an outside the waist band model. Both holsters were a perfect custom fit for my exact model revolver. These holster are made to order for your specific gun for a custom fit. Fantastic workmanship. My order took about 3 weeks as each order is custom fit, not some cheap one size fits all holster. I couldn't have been happier with the holsters that I received. They are a custom leather holster made by a true artist. If you are looking for a custom fit holster do yourself a favor and order yours from Holsterpro! You will not be sorry that you did.
Joe Gabor
Merritt Island
FL
Holster for S&W 642
I am very happy with the holster you made. It fits perfectly. Carrys the pistol at the correct angle for easy draw.
The best holster I have ever had. Says a lot because I've had a gun shop since the 80's.
Thanks for a great product and customer service.
Harris
Estero
Florida
Holsterpro ankle holster
I purchased the Holsterpro ankle holster and having worn it occasionally for about 3 months now it does not loosen up while walking around. After a few moments of putting it on I sometimes forget about it even being there. The wool is about an inch thick making it very comfortable the Velcro is tight , the stitching is top notch, I would recommend this holster to anyone. When I get a different pistol I will be getting another Holsterpro ankle holster. Leo
Leo Smith
Mount Dora
FL
Great Holster for A Fair Price
Just received my new in the pants holster for a Bond Arm Snake Slayer. The gun and holster is an excellent fit and it is very comfortable to wear. I will have Holsterpro make another holster for another gun soon. Thank you
Kenneth Davis
Indianapolis
Indiana
Quality Exceeds Expectations
I received my Model 25R holster yesterday and the promptness of delivery and the quality and workmanship all exceed my expectations. This is my first holster from Holster Pro, but I would not hesitate to order from them again. I am giving a 5 star review only because there is not an option for more stars.
John S
Tulsa
OK
Model 25R holster for S&W Model 642
I just received this holster and am very pleased and impressed with the quality and workmanship. The delivery time was was well within the estimated time given on the Holster Pro website. I would not hesitate ordering again from this business. A five star rating is well deserved.
John S
Tulsa
OK
Hands Down The Best On The Market
I am so happy I made the choice of calling Paul up and personally talking with him. I have been searching for holsters for a long time and have not been satisfied with what's out on the market these days. Most of the holsters I have purchased for my carry guns I have sent back to get my money refunded. I am here to write a honest review of what my experience was with talking with Paul and telling him what I've been through trying to get just not any holster, but a holster that I'm happy with that I feel good about wearing on my belt all day long, that will last a long, long time. Well hands down this is by far the best customer service and high quality gun holster I've ever purchased any where on the face of the earth, no bullshit. Plus Paul is Italian, forget about it. He has just got another customer for the rest of my life. Trust me you will not be disappointed with any of his holsters. True craftsmanship, he put a lot into his work. Thank you paisan.
Johnny
Olympia
Washington
BEST VALUE AND WORKMANSHIP
Holsterpro's leathercraft is absolutely second to none, and just keeps getting better. The leather tooling on the holsters- both duty black and off-duty chestnut is crisp, flawless, and distinctive.
David Randolph
Bryn Mawr
Pennsylvania
Great Holster — Above and Beyond Customer Service!!
I just received my holster and it is great!! Super stiff just like a new holster should be. Looks like it will last forever. I have some leather holsters made by the big companies and they are OK, but this is obviously a handmade holster. Through no fault of Paul's, my first holster got hung up in shipping. Paul VOLUNTEERED to send me another, which he did quickly and sent it priority. Excellent service and a top quality, handmade holster!! Holsterpro has a customer for life!!
Charles L Landrum
Newnan
GA
My 5th holster purchased from Paul
Sorry for my late review, but received my 4th and 5th holster from Paul a few weeks ago. I continue to be extremely happy with the craftsmanship, congrats to you Paul for being a serious small business owner who shows his pride with each holster.
William Seybold
Philadelphia
PA
THIS THING IS AWESOME
I ordered an IWB holster for my M&P Shield .40 from The Holster Pro. Most comfortable holster I have ever bought. Talked to the owner a couple of times about some questions I had about comfort after my lap band surgery and he took the time to answer all of them. Overall great experience. 5 Stars
Mark Chieco
Sherrill
NY
Sig Sauer P238HD Holster Fits Great!
Bought this holster in the tan originally but the holster was very loose fitting and I wasn't comfortable carrying it. Was recommended the black as the leather is a bit easier to work with. Fits nice, but would not recommend doing any handstands with a loaded firearm! Still a bit looser than I expected. Ask if he can make it a bit snug and let the leather form over time. I like it tight and then wrapping my gun in a plastic bag and inserting it into the holster for several days/weeks. Helps it give the perfect fit. Quality and overall finish is great on them. Plan on getting a new one for my Colt King Cobra soon!
Brandon
Greenwood Village
CO
Model 19 Springfield Hellcat
USPS Informed Delivery told me HOLSTERPRO Model 19 was to be delivered today. I was out in the barn restoring an old 1940's snow sled when it arrived. For safety reasons I removed the round in the chamber from my Springfield Hellcat, then I installed my carry magazine and holstered my weapon. My new holster fit the Hellcat like a glove. I then went back to my project with my Hellcat and new holster at my side. I spent several more hours working on the sled and almost forgot that my weapon was by me side. My new holster was comfortable and unobtrusive right out of the box. I've got a feeling that this will be my holster of choice from now on.
Thanks Paul for the fast service and quality product.
Gary Kunkleman
Elida
Ohio
Awesome!
Ive spent lots of 💲💲💲on kydex crap etc. Holsterpro is by far the best. Excellent holsters.
Shayne L Peterson
Yuma
AZ
Beretta 3032 Tomcat iwb
My search for a comfortable easy to use holster is over. I will be getting Holsterpro holsters for all my cc guns. Thanks!
Ron Ekkel
Fremont
Michigan
Very nice leather products!
I have bought two leather products from HolsterPro, a mad pouch and a holster on different orders and both item were very nicely done and all I expected. I will buy again as needed.
Roger Anderson
Salina
KS
Great Products and Service
I have had a Holsterpro holster for my Ruger SP101 for several years, and it is an excellent product. I just received a new Model 21 for my Ruger Security 9, and it looks to be every bit as good! Also, Paul has been great to work with. I would highly recommend Holsterpro. Keep up the good work Paul!
Dick Blaze
Clive
IA
Pico Holster
I purchased a holster for my Beretta Pico from Holster Pro. This holster is very well made, and fits the pistol like a glove. I highly recommend this company.
Rob
Enid
Oklahoma
Model 25H Holster for Taurus 856 UL
Preston Goldner
Fort Mill
South Carolina
Ankle holster
Received my ankle holster today. Excellent holster and craftsmanship. Thank you
Robert La Mere
Santee
CA
No disappointments!
Received my third holster this week, no disappointments. As always quality work!
Paul Novalski
Philadelphia
Pennsylvania
Great Holsters
Received my pocket holster and iwb holster for my springfield hellcat yesterday. This is my first foray into purchasing new leather as opposed to kydex or second hand leather goods. I have to say I am extremely impressed. The holsters both fit the weapon securely yet release easily. I was very concerned about how they would fit and affect the draw stroke. They far exceed my expectations. I appreciate they are stiff enough to remain open once the weapon is drawn to allow easy re-holstering. I was somewhat concerned with the metal clip but the clip provided is very strong and does a fantastic job connecting the holster to my belt. I cannot express how pleased I am with these products and I will return when I have another holster need. Thanks so much.
James Tyler
Gun Barrel City
TX
Awesome holster… Great fit
Ordered a holster for my Kahr P380. The price was so cheap I didn't know what to expect. WOW.. The quality, the fit, the fast turnaround was way more than I expected.
Dave Patterson
Findlay
Ohio
Perfect pocket holster
Seven days ago I ordered a pocket holster (model 3) for my Sig P365. Just picked it up from my mailbox. Not only lightning fast but beautifully made and providing a perfect fit.
Actually this holster convinced me that Sig P365 can be carried in a front pocket. Always though it is too big.
This is my second pocket holster from Holster Pro. They are worth every penny. Highly recommend you look through Holster pro on line catalog.
Thank you Paul.
Richard Grzybowski
Tampa
Florida
Best Slide Holster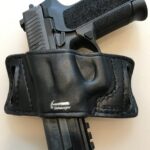 I have been buying pocket holsters from HolsterPro for several years and have always been very impressed with all of them. This time I was looking at the Model 5134 slide holster for my Sig SP2022. My pistol was not listed for this model and when I contacted Paul he said it was not a problem, added the Sig to his list and 4 weeks later the most incredible holster I have ever seen arrived. The fit, workmanship and quality are all outstanding and surpassed my expectations. I have other leather holsters from various manufacturers and none of them compare. If you need a quality holster that rides high and tight, this is the only one to get.
Robert Kaufman
Franklin
MA
The best I've found by far…
Paul's holsters are truly superior in comfort and quality. After trying all kinds of holsters over the last 20 years, my whole collection rides in Holster Pro Holsters, thanks Paul!
Kevin Wahl
Edmonton
KY
Excellent pocket holster
Just bought a pocket holster #3 for my Ruger LCOPII with laser. Excellnt holster. Great attention to detail. Good fit. I will order another one soon. Thank you Paul
Richard Grzybowski
Tampa
FL
Awesome Holsters!!!
After looking at the website I had a few questions so I sent an email on a Sunday night with hopes to hear back from Paul on Monday. I was surprised to receive his email 15 minutes later answering all my questions. I placed the order for models 577 and 722 for my Springfield hellcat and received them in a timely manner. Both holsters are awesome. Fit and finish could not be any better. If you're looking for a holster give Paul a call he's the man!
Brian Dampier
Paris
KY
High quality holster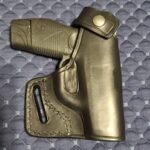 Just like to say I ordered model 607. The quality is superb. I am very pleased with the fit for my firearm and the comfort in wearing this product. I also ordered the belt and it fits great. If you're on the fence about ordering from HolsterPro rest assured you will be glad you did. I will be ordering holsters for my other firearms I cary. Thanks for a great product.
Rick Matherly
Madison
NC
Beautiful Holster
I was going to order the wrong holster for my Hellcat. Paul told me why and suggested to one I bought. It came much faster than I expected and I am 100% impressed with the fit and overall quality. I"m now looking to order my second one
Bill Debany
Pelzer
South Carolina
True American Craftsmanship
Just received two holsters and both are absolutely perfect! Finally, a one stop shop for superb leather holsters!
Montie Talbert
Saint Augustine
FL
Perfect!!
I couldn't be happier with my holster. I went with the model 19 with optic cut out for my Hellcat. It's super concealable and the most comfortable holster I've ever worn. Shipping time was as to be expected during a pandemic, but the quality makes it well worth the wait!
Eddie Serafin
Salem
Oregon
Super Good Quality and Function
I am ready to order my third belt holster. The quality is very good. Leather is durable and gun fit to holster is excellent. I expect I will order even more in the future.
Terry Oler
Saratoga Springs
Utah
Eternal Holsters
Putting aside the great price and quality of the custom holsters, the actual holster itself ages really well. Through many draws and long day's carrying, it still looks great. Other holsters by this point have had stitching come undone, tear or lose grip on the gun; these holsters do not. Looking forward to a new gun so I can also get the new holster.
Spencer
Powell
OH
Love My HolsterPro Products.
I own two HolsterPro holsters and one magazine caddy. The finish and quality of all three products is first class. I have recommended HolsterPro holsters to several of my friends. Keep on turning out great holsters.
Tom Dix
Moscow
OH
Perfect
I have 4 of these holsters and a wallet. All are top notch quality. Great work.
Shayne L Peterson
Yuma
AZ
Amazing Customer Service
I have a Smith & Wesson 686 with a 4 inch barrel and I was looking at several holster options on the Net. I had several questions about a cross draw holster and was watching YouTube. I saw a Holster Pro YouTube vid on the model 625. It was on the weekend and late at night but I sent an email with a couple questions. I figured I might hear back in a few days if I was lucky. The next day (Sunday) I opened my email and my questions were answered. I was impressed they wanted my business as much as I wanted their product. I ordered the holster on Monday and 7 days later I received my holster. The fit is perfect and the workmanship is superior to other holsters I've seen for twice the money. There is a lot to be said for made in the USA. I will be ordering additional holsters in the future. Thanks
Todd Jordan
Puyallup
Washington
Great Quality
Great quality products and fits like a glove!!
Mark Baker
San Angelo
Texas
Great Holster/Great Service
Just ordered my OWB leather holster for my Sig 365. Model 5134 slide holster is the best I've ever had. Such fine leather and marksmanship! Paul is such a professional. He answered all my questions. HolsterPro.com is the best site I found. Holsters offered between $30 and $100, plus great service.
Paul Bortolazzo
Santa Barbara
California
A Really Great Product
This IWB holster was just the right thing for my needs. A very great holster, very good material, and the fit is outstanding. Thanks.
Ramon Cook
Shorewood
IL
Great Product
Gun fits great. Good solid holster.
Ramon
Shorewood
Illinois
Model 577 IWB Holster
What a great holster for my M&P Shield. The fit and finish is excellent on this holster. Can't beat the price too!
Michael Brani
Rochester Hills
MI
Marvelous Craftsmanship
I could not be more pleased with my 577 holster. The craftsmanship is great; affordable; sleek; and subtle. To reiterate a fellow customer, I feel that I underpaid for the holster. In addition to Paul's great products, his customer service is invaluable.
Thank you sir
Jacob
Burlington
North Carolina
Springfield Hellcat Holster
I love it. I wear the holster that Paul made every day. Even when i am working around the house. Beautiful craftsmanship I just bought a 911 so i am going to buy another holster from Paul.
Denny
Dennis Woodworth
Grand Ledge
MI
Model 577 and 25R
I just received my 2 holsters for my P365 today. They look great and the fit is fantastic. And the retention on the 577 is as advertised. Hold it upside down and it doesn't budge!
Dennis Semmel
Schnecksville
PA
Mod 25
Received my model 25 holster in the mail yesterday right at four weeks after placing order. I am very pleased so far with the holster. The quality seems to be very good and it seems to work just as indicated in the video. Put it on this morning and wore it around the house for a couple of hours just to try it out. Does seem a little hard to remove gun from holster but assume that it takes a little break in time. Will be considering a second one in the near future for my Bersa.
John Richey
West Melbourne
FL
I Have Two And They Are Both GREAT
I have two of the Model 625 cross draw holsters and they both fit the weapon and me very well. They are a great way to carry when driving and running everyday life errands. I like having my strong hand free to control my dog when walking her. I will be ordering another holster today!
Larry Wrinkle
Buffalo
MO
Great Holster – Comfortable For All Day Carry
Got a Holster Pro holster for my Glock 43. Perfect fit and extremely comfortable for all day carry. Customer service is excellent and the quality of the product is outstanding.
Ed Jordan
Doylestown
PA
Very Impressed With The Quality And Craftmanship.
I never leave reviews on anything, but I had to say something about your holster. I was immediately impressed with the fit and quality. I wish I would have bought this 9 years ago when I bought the gun. A+ to you!
Paul Painchaud
Keene
NH
Craftsmanship
I'm pretty fussy when it comes to the finish on my handguns. I recently looked at a old blued Colt Mustang and the finish was mostly worn off from holster wear. The salesman called it, "battle worn". You won't get that with Holster Pro. The leather Paul uses is a bridle leather and the holsters he makes are specifically for your gun. The leather he uses is soft against the finish and with his large variety of styles it makes it easy to find the perfect holster.
Dean Orloske
Naugatuck
Connecticut
Sig 380 Holster
Purchased a holster for a little sig 380. Fabulous workmanship and after purchasing two other holsters that didn't fit properly – either too tight and wore finish or too loose and didn't feel it would be a secure carry. The fit from Holster pro was perfect from day one.
Rick Dumas
Glastonbury
CT
Top Quality Holsters
HolsterPro makes nothing but top quality leather holsters. Made custom for your specific firearm. Very reasonably priced for a top quality custom made leather holster. I love the ones I have purchased and will probably buy more.
Mark H.
Tewksbury
MA
Hellcat Holster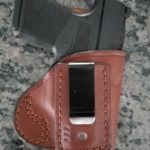 Solid holster and the craftsmanship seems very sturdy. I am in the process of breaking in the holster. Leaving the weapon inside of it and sliding it in and out at times. From what I can tell from my use is that this thing is perfect. The wait wasn't long st all. Just a tad over 3 and half weeks. And I am very pleased. Thank you for doing this for me and this is my first custom made holster. I'll be coming back for my other guns for sure.
Hernan Sanchezruiz
Kernersville
North Carolina
Excellent Workmanship
I am a former Houston Police Officer and I've had Paul make several holsters for me. Great quality, great service and great attention to detail. He is a craftsman. I've also had occasion to speak with Paul on the phone to iron out some details and I found him to be very professional. I have also been in business for over 30 years and can be very particular about the way I like things and I highly recommend HolsterPro to law enforcement as well as the general public.
Anthony R Angelucci
Woburn
MA
686+ Cross draw
Great holster! A true work of art. A fantastic holster that fits perfectly, superb workmanship. Definitely will order in the future for my other guns.
Chris
La Conner
WA
Great Holster
I received this holster for Christmas and must say it is gorgeous. I had purchased an Astra Cub in .22 short and I wanted a period holster for such a small gun. I found the solution at HolsterPro. Fit and finish were top notch! I appreciate the care taken to make sure the contours of the interior of the holster matched those of the gun.
This afforded a nice snug fit. I went for the Ambi Wallet Holster and it is everything I wanted and more. Thank you so much!
Tom Dest
Macomb
MI
Best Holsters
I'm very pleased with my purchases from the company. Very durable, very comfortable and at a great price. I recommend everybody to check out holsterpro before anybody else.
Robert Vicente
Miami
Florida
Great Holsters
I have purchased 6 holsters from HolsterPro. These are the best holsters i have ever purchased. The pocket holster is my favorite. It does not print in your pocket and because of the design it is easy to pull your gun out of the holster while the holster remains in your pocket. I been using my pocket holsters for 5 years and they show no sign of wear whatsoever.
Robert Turner
Franklin
TN
Great Quality Holsters
I ordered a model 7 pocket holster and a model 577 inside the waistband holster for my Smith&Wesson 442 revolver. Both are so well made and fit the revolver just perfect. I like the soft leather he uses. I sent him an e- mail to ask a question about one of my orders, and he answered back the very next day. Very good customer service. I am very pleased with both holsters and the attention to detail that was put into making them. His business seems to be very well organized which is always good. If you like leather holsters, I believe he will make a very good one for you.
Terry Akin
Pasadena
Texas
Great Holster
This holster performs exactly as I wanted it to. I purchased the pocket holster and could not be more pleased. The leather is holding up great! Thanks!!
Gary
Leetonia
OH
Conceal Carry Nation
Extremely pleased with my HolsterPro. Wear it daily and it fits just as nice as the day I got it. Would 100% recommend. Thank you HolsterPro.
Mark Smazik
Lockport
IL
By Far the Best!
I have bought many 'inside the waist band' holsters over the years. Once I bought my first HolsterPro my search was over. The Quality is Top Notch and the leather is thick, soft and durable. I now own more than one HolsterPro holster and it is the only one I recommend to friends and family! Don't hesitate, Buy It!!
Bob
Monument
CO
Good Holster
Good holster, Quality leather and workmanship.
Alan
Live Oak
TX
Perfect
Perfect holster, exactly what I wanted. I can get to it anytime. Quality craftsmanship.
Garland
Staunton
Virginia
Excellent Holsters
I had two holsters made for my Pico and wow this guy is good. If you want a high quality, long lasting holster, you can expect the best with Paul. These holsters are outstanding. I think my kids children will be able to use these in the future. No kidding.
David
Eaton
Ohio
Great Products
I ordered a belt holster from Paul, 25H. We spoke via email and cell to get my order exact. Received the order in a timely manner. I'm very happy with the holster and the quality. Plus the customer service was outstanding. I will not go anywhere else for my holsters in the future. I wish I had found this company years ago. Fits my Sig P250 perfectly.
Bill J
South Yarmouth
MA
Best Holsters I Have Purchased
I have purchased several HolsterPro holsters over the past couple of years. Extremely well made, fit my pistols and revolvers perfectly. Pricing is very good, faster shipping than most handmade holsters, willing to customize his standard items for very reasonable prices. Responds to emails quickly and clearly. I will continue to use HolsterPro for my future purchases.
Glenn Parks
Cypress
Texas
Great Product and Service
I ordered a holster for my 9mm Ruger. The service was excellent and Paul was great to deal with. The holster is excellent quality and I love it.
John L
South Hero
VT
Surprised
I guess you could say I was surprised in a way. I usually don't buy anything online without trying it on first but after seeing his video on my LCP2 holsters I contacted Paul and he worked with me on my order. I believe I received my holsters In under 4 weeks. I couldn't of been happier with the bundle I got. Great product and service Thanks Paul.
Darrell Brown, Sr
Wilson
NC
High Quality Products
After purchasing cheap nylon type ambidextrous holsters I was watching a you tube video by Paul and decided to purchase my first holster from him. His explanation of how he fabricates and the materials he uses piqued my interest in his products. After purchasing my first holster from him I was very satisfied and purchased more. I am extremely satisfied with his products and his professional demonstrations he gives on his videos. I am deciding on another type of holster I will be buying in the near future.
Michael E Zimmerman Sr
Lynch Station
Virginia
Great products
I have both an ISWB AND OSTWB, I also use a mag holder. After a short break in period you forget you have them on. They look as good as the day I got them. I would recommend to anyone, I will buy again for my next gun. Have fun and be safe.
Dennis TometczaK
Saint John
Indiana
Cycling, Ideas and First Impression
If you have ever been riding a bicycle during the summer months you can really work up a sweat. So for some time, rather than carry my LCR uncomfortably in a pocket or in my waistband while riding, I kept it in a zippered pouch under my saddle. Yeah, I know, not the best place to access your protection should you need it quickly, but at least it was with me. I recently purchased a new LCP2 and began looking for a way to mount it on the stem of the handlebars using the existing holster. After several unsuccessful attempts to find a safe, secure, discreet and efficient way to mount the holster I already had, I decided to find help.
So on Thursday 319 I contacted HolsterPro via email. My first impression(s) of HolsterPro: Very quick response. Excellent. Question to determine whether my locality allowed open carry. Excellent. Questions to determine whether I was a responsible gun owner. Excellent. If Paul's product matches the first impressions I have of him, my satisfaction should follow. He knows there is
more to just making a sale when you are dealing with firearms. To be continued.
Walter Bilitski
California
Pennsylvania
Model 508 IWB
I got the model 508 IWB by Holsterpro for an LCP 2, I also have an Alien Gear IWB. I much prefer the 508 as it's easier to put on and take off and more comfortable. It's excellent quality and I like that the design of this holster protects my skin from the gun's stippling. Highly recommend, will eventually buy from Holsterpro again when the need arises.
Chauncey
Woodinville
WA
Awesome Holsters
By far the best holsters I have ever used. I've purchased upwards of 20 holster and none of them were as comfortable as the Holster Pro's holster for inside the waistband carry. Quality craftsmanship.
Angel Dejesus
Chicago
US
Great Quality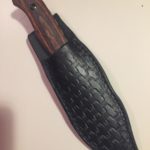 I've been purchasing my concealed carry holsters from HolsterPro going on ten years. I prefer Glock pistols and the four IWB holsters I have ordered have fit like a glove, continue to be very comfortable and durable. I have also purchased a pocket holster for a G43, and most recently bought a sheath for my hunting knife that could not have turned out better. If you are not having your holsters custom made you are making a mistake. If you do have your holsters custom made, you can't go wrong with one from HolsterPro. I highly recommend you give them a try.
Kenney Jackson
St Petrs
MO
Cross Draw
Had a Cross Draw holster and a mag holder made for my Sig P938, it is a really good quality holster. I have recommended this holster maker to a lot of people, I highly recommend.
Gary Murphy
Granbury
Texas
Well Built Holster
Very good product that is well built. I am extremely satisfied with my holster. I will always be a customer.
Willis Grandy
Pine Bluff
AR
Appreciate Paul's Craftsmanship and Skill
Over the last few years I've purchased two holsters from Paul, love the high quality leathers he uses and expect them to last for many years to come. I anxiously await my third to arrive any day. I'll be back for more.
Pat D Powell
Port Hadlock
WA
Suede Lined Basketweave
I ordered two holsters from Paul Vitaglia of Holsterpro and I am completely satisfied with the fit and finish. If you order a basketweave holster from Paul, it will be the only holster you own that's basketweave on the back side of the holster. If you're old school like I am and you want suede lining, Paul can do that too. I will definitely order my leather from Paul in the future.
Al Alonso
Harrison
New Jersey
Best Ever
I have many and I mean a LOT of holsters for my Ruger .38 special and by far, the Holster Pro Gun Leather holster that was made for me is beyond awesome; it's now the only one I use. The leather is high-end, the retention is perfect and I feel very safe and secure carrying with this well made product. I highly recommend any product that is made by this company.
Joan Newberry
Deep River
CT
My 4th Order Now Being Processed by HolsterPro.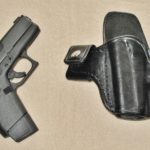 Since locating this vendor online a few years ago, I've purchased 3 (previous) handgun holsters, and am presently awaiting my 4th holster order to be completed. Paul makes holster choices easy by usually providing (on the website) a short video for each type holster, with explanations of the type leather used, and the final product displayed in use by himself. To date, all purchases have been satisfactory.
Lee Anders
Sierra Vista
AZ
Springfield 911 Cross Draw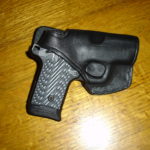 Perfect fit – Quality Stitching – Top Grade Leather – Comfortable Carry – Well Satisfied.
Ed Schnell
Blanchard
OK
You Will Not Find A Better Holster
I have had three holsters made for me and my wife in the last two months for the same model gun. 1 OWB with a thumb snap retention for EDC, 1 OWB W/O retention for Range use, and 1 pocket holster Model #1 for my EDC. All three holsters are superb quality with expert craftsmanship that are a perfect fit with a little bit of breaking in. As well built as these holsters are and with a little care from us, they should outlast our guns with no problem. Just to let anybody know who is reading this review I have allot of holsters, A LOT of holsters from Kydex to hybrids and everything in between with some good and some really bad. HolsterPro is the only company that I have had multiple holsters made for us and yes they are that good and we like them that much. If your thinking on trying a good comfortable leather holster check out HolsterPro, you will not be disappointed at all and yes I will be buying again. Larry
Larry Kinsey
Uniontown
Ohio
Good Looking Holster
At this time i have only had the Bond Arms in the holster.Ii have not worn the holster and weapon at the same time. What i have noticed is the quality of the holster and the firmness of fit. I have a Bond Arms Snake Slayer and carry the same around all the time. I am thinking of ordering a new holster for my Glock 42, 43 or 43X. A small in-close holster that does not get in the way. Keep up the great work. I will be back as a customer!
Brian Holcomb
Georgetown
TX
Well Made Holsters
I have purchased 7 leather holsters for different firearms all have been extremely well made. All were custom made for a specific handgun with a perfect fit. Response and service was extremely professional. Would not hesitate doing business with them again should the situation arise. Thanks for a great product.
R. Hines
Hampstead
Maryland
Honest and Dependable
Honest and dependable. My completed order was shipped to wrong state, but I received my order soon afterward. My holster was excellent quality. And business is very professional.
Patti Glover
Longview
TX
Best Holsters
I had gotten two holsters. One for my M&P and one for my Glock. They are the best holsters I have ever had thank you so much.
Dana Weygand
Laurens
New York
Great Holsters!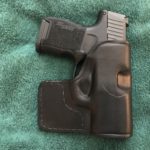 I have purchased a Model 7 pocket holster for my J frame Smith, and a Model 5 pocket holster for my Sig P365. Both were shipped quickly, and fit both handguns perfectly. High quality leather and workmanship. Great value for the money.
Dale Clark
South Riding
VA
High Quality
The leather is high quality and long lasting, something I wanted. Not the cheap non-durable. The craftsmanship is as high as you can get. The cut and stretching, and the molding of the leather to your specific gun. The fit is tight and further forms nicely during regular use. This is something special that I wanted, perfect fit. Not something that at general holsters on racks at stores. It is hand made for your gun. Just what I wanted. Thank you for this exceptional customized product. We continue to buy HolsterPro products.
Jim
Willis
TX
A True Craft
A great product from a great craftsman. Short turnaround and a good understanding of how and when you'll be receiving your holster
Donald Brewer
Beardstown
Illinois
Do Yourself A favor and Buy Your Next Holster at HolsterPro
I have purchased 3 holsters from Paul at HolsterPro and have always been extremely happy with the craftsmanship and price. You can call Paul to discuss a model for your particular handgun and be able to get good advice about a holster as well as request a modification to a model he has. He wants you to be happy with your purchase.
Bill Seybold
Philadelphia
PA
Very High Quality & Great Craftsmanship !
I have purchased a few holsters from HolsterPro and have been more than satisfied with the products. The quality, appearance, and the way the guns fit is outstanding. The prices are reasonable and the service is great.
Charles Dimmick
Eddyville
IL
Excellent Quality
I am impressed by the fit and finish on this holster. I am very pleased with it.
Samuel McAllister
Dacula
GA
HolsterPro IWB holsters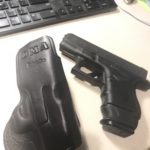 I personally own 3 of the 577 IWB holsters from Paul. Absolutely the finest crafted bridal leather holsters I have come across. Beautiful design, functional, strong and look great. Paul is great to work with and turns around orders quickly. Can't wait until I need another reason to buy! I send friends here as well whenever I can.
Attached is a pic of my 577 IWB for my Glock 27. Gorgeous functional product.
Thx HolsterPro!
ShooterTech
West Chester
PA
Best Holsters I've Ever Owned
This guy makes the best holster I've ever owned. I'm going to order one for a new pistol I bought a few weeks ago. Workmanship is excellent. Any one looking for a great holster this is the guy to order from.
Michael Fischer
Waukesha
WI
Quality Product
I have a Ruger LCPII with a Viridian laser sight. Holsterpro made a holster that is very well made from top grain leather and my handgun fits inside it perfectly. It is truly a quality product and I would recommend Holsterpro to anyone.
Gary H. Courtright
Bellville
Ohio
PX4
Love my holsters I have IWB and a sleeve for my px4 sub compact and I love the way they have broken in. Will be ordering the same package for my full size.
Damion Wilson
Nampa
ID
Great holster
Made me a custom OWB holster for my .357 Ruger Sp101. Absolutely a perfect fit. Was amazed at the quality and workmanship. I highly recommend!!
Richard Rossway
Marquette
MI
Holsters
Over the past several years I have ordered several different holsters for various guns. They have always been a perfect fit. I continue to believe these are some of the best quality holsters on the market. I will keep recommending HolsterPro and am a life long customer!
Ryan Berg
Scottsdale
Arizona
Great service 10 out of 10
This was a great experience ! shopped for a long time to find who i thought would make the best holster for me and holster pro hit it out of the park!
Jeff Cooper
Claremore
OK
Great workmanship
Just want to say that the holsters I have ordered have been just what I wanted. The quality of the workmanship is very superior. Placing an order and getting the handmade item I think is rather quick. Keep up the good work and will be doing future business. Thanks again
Dan
Worcester
MA
Quality products with professional service.
I have purchased several products from HolsterPro and have been 100% satisfied every time. I will continue to use HolsterPro for all my leather needs. Thank you for all your good work.
Robert Hazellief
Largo
Florida
Awesome
Great service and quality. I ordered a holster to be made in a certain way which made it a custom order. There was no extra charge and I had the holster in one week. Paul is very easy to work with and very responsive. Highly recommended.
David Mitchell
Salisbury
Massachusetts
Happy
Ordered a holster. Good quality and fit nicely. Holding up very well.
Ronald Stephens
Kilgore
TX
Always a great fit
Holsters have fit and functioned fantastic! Thank you
Robert Hurst
Woodridge
Illinois
A wonderful person
Holsterpro is not just a company that makes holsters, it is wonderful to work with Paul and get such a quality product. Everything I have purchased from him has been high quality, he stays in touch with you, is extremely fair, explains your options if you happen to have any concerns or are not sure.
I would highly recommend PAUL and his company and will continue doing business with him!
Paul Swerdlick
Canyon Country
CA
Thanks
Paul,
Using the same holster for daily use for seven years now and with zero problems.
Great craftsmanship still reflected in how well it has and continues to serve me.
Good job!
Joel D. Myhre
Columbia
Missouri
Exceeded My Expectations!!!
First leather holster, and I am in love! I have plenty of the plastic and even neoprene holsters and they work but are stiff. This leather one is amazing and molds to my "curves". Fits my Hellcat perfect! Customer service was amazing. You can see true craftsmanship here folks, better than the mass produced holsters out there.
David Perez
Bonney Lake
WA
Exceeded my expectations on every level
I ordered your Model 1 Pocket Holster. You've exceeded my expectations on every level. The appearance of the leather, quality of materials and the fit and finish are unbelievable!
I purchased an old .22 short Astra Cub (Colt Junior) and wanted a holster reminiscent to the gun. Your work makes that little gun shine. Please know I will be telling/showing family and friends your wonderful product and recommending HosterPro as my source for finely crafted carry options.
Thanks so Much!
Thomas D.
Macomb
Michigan
Impressive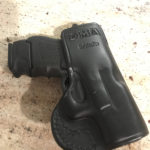 Impressive. Not only wonderful USA products but the support you provide as a one man team is top notch. Kydex is kydex. We all love our cheap holsters from Amazon, but there's nothing like a custom made English bridal leather holster made for your special carry, and initials monogrammed etc.
One problem though. You under charged me!! Man, your work is so nice. Thanks for taking care of me. It's perfect. Love it!
Dane A.
West Chester
Pennsylvania
Keep up the good work!
I just received your model 5134 for my LCP and it is great! I also purchased a model 5134 for my P365 a few weeks ago, and it is now my primary carry holster. Keep up the good work, and I'm sure I'll be making future purchases from you.
Jack Hickok
Liverpool
New York
I could not be happier
I have two HolsterPro holsters. One for my Taurus PT111 G2 and one for my Ruger LCPII. Both are my carry options. I could not be happier with the design and construction of my holsters. Very high fabrication and excellent materials and workmanship. I have recommended HolsterPro to my 2A friends and would not hesitate to recommend Paul to anyone looking for a high quality leather holster at a reasonable price.
Duane Dubay
Plano
Texas
Incredible customer service and product
Incredible customer service and product. Don't trust one size fit all holsters, highly recommend their packages to give you ultimate flexibility with your EDC or a holster for all your guns!
Chris Jackson
Rochester
Minnesota
Second to none in my opinion
I have bought a lot of holsters in my life. But HolsterPro is the best. Fits my wildcat perfectly – size shape and form. Second to none in my opinion!!
Jack Abbott
North Canton
Ohio
The right company to order from
I commissioned Holster Pro to build me an IWB holster for my new Springfield 911 9mm. I was amazed and pleased that they were able to do so on such a new model. I also requested a custom double open top belt clip magazine holder. Both of these were to be black leather.
When I received the products they were every bit of what I had wanted. Top quality leather and workmanship. My gun and mags fit perfectly and the static was just right on both.
If your looking for the best custom made leather products for your gun and mag collection, this is the right company to order from.
Fast and professional!
Gregory Eckert
Elkhorn
Nebraska